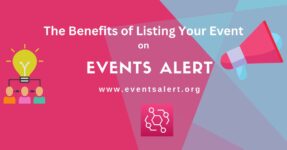 The Benefits of Listing Your Event on Events Alert
When it comes to organizing events, getting the word out is half the battle. Whether you're hosting a charity fundraiser, a corporate seminar, a music festival, or any event in between, ensuring that your target audience knows about it is crucial. This is where "Events Alert" comes into play. In this article, we will delve into the myriad benefits of listing your events on this platform and how it can be your secret weapon for event success.
Listing events requires an official website of the events where the details can be verified.
Expansive Visibility
Imagine a platform that increases the visibility of your event to a vast and diverse audience. That's precisely what "Events Alert" offers. By listing your event here, you tap into a community of event enthusiasts, potential attendees, and industry professionals. This exposure can significantly boost attendance and make your event a resounding success.
Cost-Effective Promotion
One of the standout advantages of "Events Alert" is that it offers event listing services for free. In a world where every penny counts, this can make a substantial difference in your event's budget. Say goodbye to expensive advertising and embrace a cost-effective way to promote your event to the masses.
Targeted Marketing
Listing your event on "Events Alert" allows you to target your specific audience. Whether you're hosting a local charity run or an international conference, you can customize your event listing to reach the right people. This tailored approach can lead to higher attendance rates and a more engaged audience.
User-Friendly Interface
Navigating a complex platform can be a nightmare. "Events Alert" is designed with user-friendliness in mind. You can easily create, edit, and manage your event listings. With a straightforward interface, you can focus more on perfecting your event details and less on figuring out how to use the platform.
Comprehensive Event Listings
A successful event listing is not just about dates and venues. "Events Alert" allows you to create detailed event pages where you can showcase event highlights, speakers, performers, and sponsors. This comprehensive approach lets you provide potential attendees with all the information they need to commit to attending.
Community Engagement
Connect with a community of like-minded event organizers and attendees. Share experiences, tips, and insights with others in the industry. This sense of community can be invaluable when it comes to improving your event planning and promotion. Share events to your social media channels effortlessly. This means that your event information reaches your audience wherever they are, creating a cohesive and efficient marketing strategy.
Future Event Promotion
Once you've listed an event on "Events Alert," you're not just promoting a single event; you're building a brand presence. Past event organizers have noted an increase in subsequent event attendance after using the platform. Attendees who had a positive experience are more likely to return for your future events.
Trust and Credibility
"Events Alert" has gained a reputation for its reliability and trustworthiness in the event industry. When potential attendees see that your event is listed here, it adds a layer of credibility to your event. It's a sign that your event is legitimate and well-organized.
Events Alert is not just a platform; it's a powerful tool to elevate your event planning and promotion game. The benefits of listing your events here extend beyond mere visibility. It's about engaging with your audience, optimizing your marketing efforts, and ultimately achieving event success. Don't miss out on this opportunity to transform your events into unforgettable experiences. Start listing your events on "Events Alert" today and watch your event attendance soar.